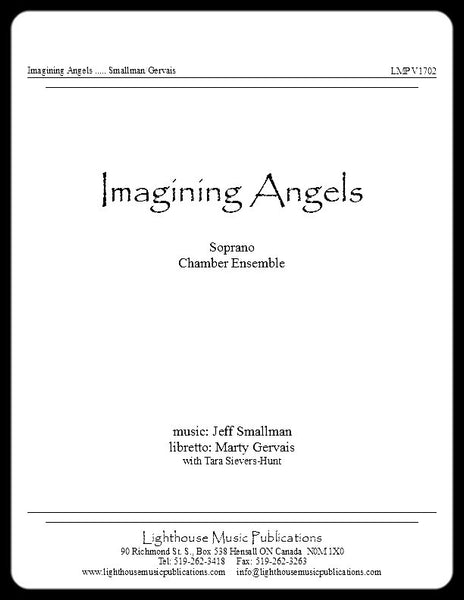 Imagining Angels
composer: Jeff Smallman
libretto: Marty Gervais with Tara Sievers-Hunt
Duration: 35:00
Soprano, piano, clarinet, violin, cello
These six scenes for soprano and chamber ensemble represent a fictional reflection on the life of a real 100-year-old woman, Pat Sturn (1910 - 2011).  Pat was a portrait photographer who lived in Windsor, Ontario and who was committed to her art.   

The drama begins with the singer telling the audience that she has just turned 100. She begins to reflect on what that means, revealing her choices in life, and her missed opportunities and regrets.  Among these is the breaking of her friendship with Emilia, an opera singer (Emilia Cundari 1930 - 2005).  Both women were faced with the same decision - whether to choose art or family.  Both chose differently.

Each scene is given a photography term for a title as homage to the art form that shaped Pat's life.

Marty Gervais, also from Windsor, was a friend of Pat Sturn's and wrote this text basing it on the time that he knew her, and on her recollections.

Written primarily for one singer, there are two points in the music where a second soprano, representing the memory of Emilia, is necessary.  The first is in Scene 4, a brief phrase beginning on page 42.  The second is in Scene 6, beginning on page 62 and is much broader.  In this final scene, Pat and Emilia sing a duet, finally reaching an understanding and a resolution of the conflict that had begun years earlier.