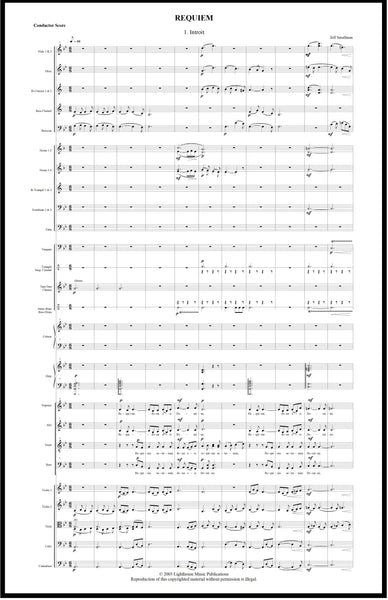 Requiem
composer: Jeff Smallman
SATB solo, SATB choir, orchestra
text: Traditional Latin
Duration: 35:00
A combination of superb choral writing and colourful orchestration lead the listener from a time of quiet grief through acceptance to a peaceful hope. Six movements in total.
Introit: Through-written, but using a recurring motive heard at the very beginning of the movement. Homophonic choral writing. At its conclusion, this movement moves directly into the Kyrie.
Kyrie: A double fugue between choir and woodwinds. The first section features SATB soloists stating subject and countersubject. The middle section (Christe eleison) introduces the full choir. Concludes with full choir reiterating the opening subject.
Lacrymosa: A mournful opening featuring basses and tenors. The middle section (Pie Jesu) is more peaceful and gives the sopranos and altos the place of importance.
Lux Aeterna: This movement for SSAA only. Tremolo strings open this section, symbolizing shimmering light.
Hosanna: Very energetic. Large range in dynamics. All sections of the orchestra are prominent at various times.
In Paradisum: Beautiful contrast to Hosanna. Begins quietly with women's voices and tremolo strings. Halfway through men's voices join along with brass and build to a majestic climax before resolving to a peaceful conclusion.